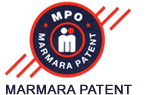 Institutional - Our Mission
Our Company aims at extensification of patent rights consciousness providing prompt and reliable service in order to patentiate competition of Turkish industrialists and enterprises in global markets by following the innovations and developments in Turkey by adopting;
Living up to principles of proficiency in registration service of patent rights on behalf of the clients in national and international.
A growing,dynamic and constantly learner team find solutions together with clients,employees and business associates.
Fulfill the demands of clients with peak level knowledge in the area of our consultancy as a principle.