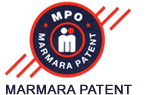 Institutional - Our Special Service
Protection Tracking System
Nowadays the conditions of competition of companies are getting harder. Producing and selling is not enough anymore and recognition of competitions,developing new products is accepted as key elements for competition. As it can't be thought of a no registered good sold in the market anymore our sector is vital and important for companies which manufactures and trade goods.
In order to compete in better conditions of competition, as Marmara Patent we offer an insight to our clients with the Protection Tracking System.
With this system,defined as protection tracking system which is arranged with annual agreements, we provide our clients opportunities such as;
Analyzing,reporting and practically follow up the applications,sectoral applications of competitors,
Following up the journals and reporting your company monthly for applications similar to your registered trademark, patent and designs,
Appropriation cheaper of your national applications by dividing monthly costs and payments.
Filing oppositions aganist similar applications without additional costs,
Costless notice and legal consultancy in case of imitations and conflictions,
Following up and notification of annuities without additional costs.


We believe that Protection Tracking System from which a lot of leader companies in their sectors benefit will grant efficiency to your business studies.